II. PROTO-BULGARIAN RUNIC INSCRIPTIONS

9. The Second Version of the Proto-Bulgarian Alphabet from our Lands

The finds from Kubrat Bulgaria assisted in deciphering the second version of the Proto-Bulgarian writing, which was discovered in the former religious centres of Krepcha and Ravna. The palaeographer Krassimir Popkonstantinov had the biggest contribution in their discovery.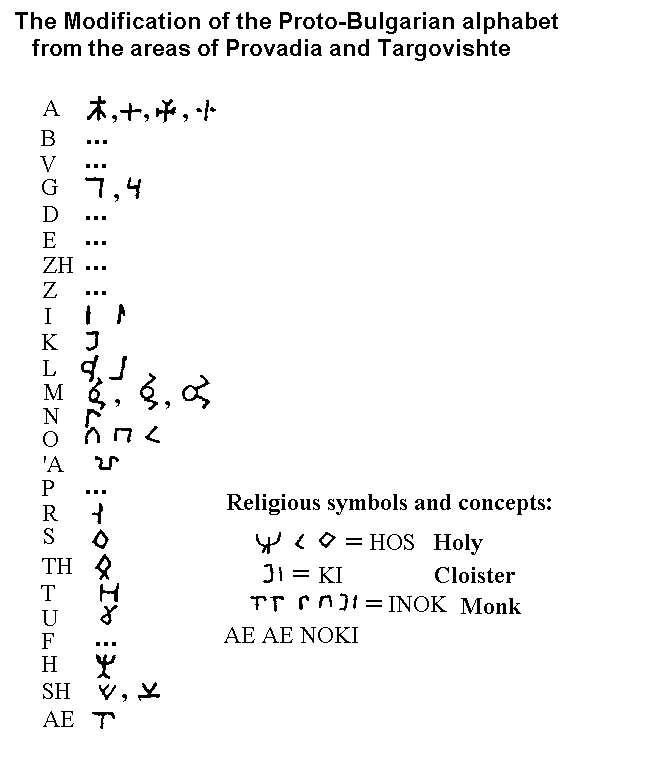 Figure 3
Figure 3 represents the characters from Provadia and from the areas around Targovishte and also from Pliska and Madara. The comparison to the Proto-Bulgarian alphabet of Fig. 2 shows the differences are very small. The characters of Krepcha and Ravda are also practically similar to the inscriptions from Kubrat Bulgaria (see Turchaninov, Op. cit., tables XXVII-XXXV). Both versions of the runic writing are Proto-Bulgarian and have its roots in the ancient homeland of the Asparuh Bulgars.
[Previous] [Next]
[Back to Contents]